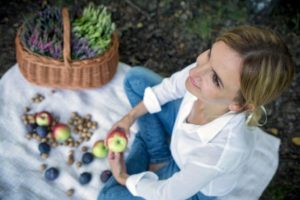 For several years, I explore the secrets of preventive nutrition of Traditional Chinese Medicine.
I lean over life in harmony with the rhythms of nature and know that "eating is important."
Understanding how we can help to care about proper diet, sleep, exercise, relaxation makes us aware of the functioning of our body.
Reflexology appeared on my way a little later and was in response to questions bothering me, and overcome the effects of stress, regain inner balance and heal the body.
I am an opponent of austerity and try momentary diet (again and again), and I definitely recommend lifestyle changes, the invitation to the kitchen: a smile, patience, love, and the use of natural products, which themselves create dishes.
I'm fascinated by the world, people and new flavors.
I graduated:
Postgraduate studies at the Jagiellonian University in Krakow – NUTRITION IN HEALTH AND DISEASEand courses:

Dietetics Preventive and curative Traditional Chinese Medicine
Currency foot reflexology – INTERNATIONAL ACADEMY OF REFLEKSOLOGY AND MERIDIAN THERAPY IARAMAT POLAND
course acupressure PROHUMANE
Currency Women's Health TRAINING CENTRE TOMO
Chinese pulse diagnosis from& Nbsp;